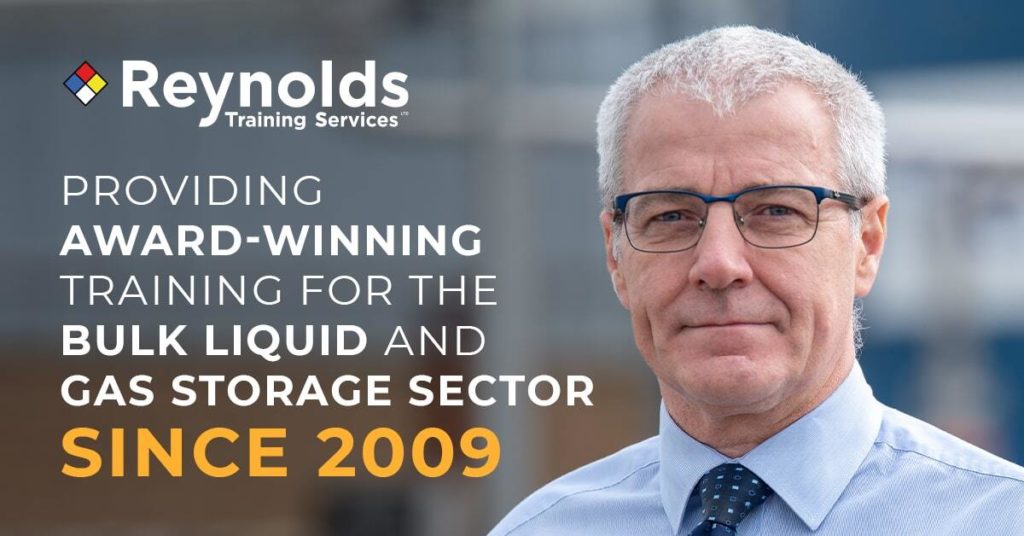 PRESS RELEASE
July 1st, 2021
Reynolds Training Services is celebrating 12 years in business. That's 12 years of offering award-winning health and safety and technical training to the bulk liquid and gas storage sector.
When company founder and managing director, John Reynolds, set out on his mission, he was a man with a wealth of experience and a burning ambition. 12 years on, Reynolds Training Services is a thriving business which offers the finest training from experienced time-served trainers, validated by the world's most respected awarding bodies.
From its base on The Humber Bank in the UK, Reynolds Training Services reaches out to provide training at tank storage and processing facilities across the country and the world.
The business goes from strength to strength; pioneering new courses, such as its unique Bulk Liquid Terminal Technician Apprenticeship which creates an entry-level pipeline into the industry and, thus, offers opportunities for a new generation of young people to build a career within this vibrant and exciting industry.
Reynolds Training Services' interlinked family of businesses
Reynolds Training Services has also built a state-of-the-art onsite facility, the NCPM – a.k.a. The National Centre for Process and Manufacturing – which was developed in partnership with CATCH. This provides a unique learning environment which supports safety and technical training for careers across operations, maintenance, control & instrumentation, process and occupational safety, management and quality control.
For ongoing support in monitoring the training and competency, Reynolds Training Services has also developed CALMcloud, which stands for Competency Assessment Learning Management in the cloud. This helps learners and employers track training needs and achievements.
Creating a pipeline for the next generation of talent
This is all part and parcel of John Reynolds' ambitions for the business. "We believe we are the leading provider of core qualifications in the High Hazard sector." John explained. "The people who work in this sector need qualifications that recognise the importance of their work and of the contribution this sector makes to industry and society as a whole. We also want to create a framework where learners and employers can take a whole work-life view of their careers."
Reynolds Training Services started off as one man's mission to offer exceptional safety and technical training, but now his story is the industry's story.
As John Reynolds added: "Our industry is always striving towards maintaining better standards and creating better opportunities and, at Reynolds Training Services, we aim to play a serious role in helping to drive that forward – for the benefit of the industry we love."
More about Reynolds Training Services:
Reynolds Training Services is accredited by the world's leading awarding bodies to run a range of globally-recognised health and safety courses and qualifications. They also bring the same skills and experience to their own range of bespoke courses.
Media enquiries:
Tel: 01469 552 846
Mob: 07522 330 241
Email: admin@reynoldstraining.com