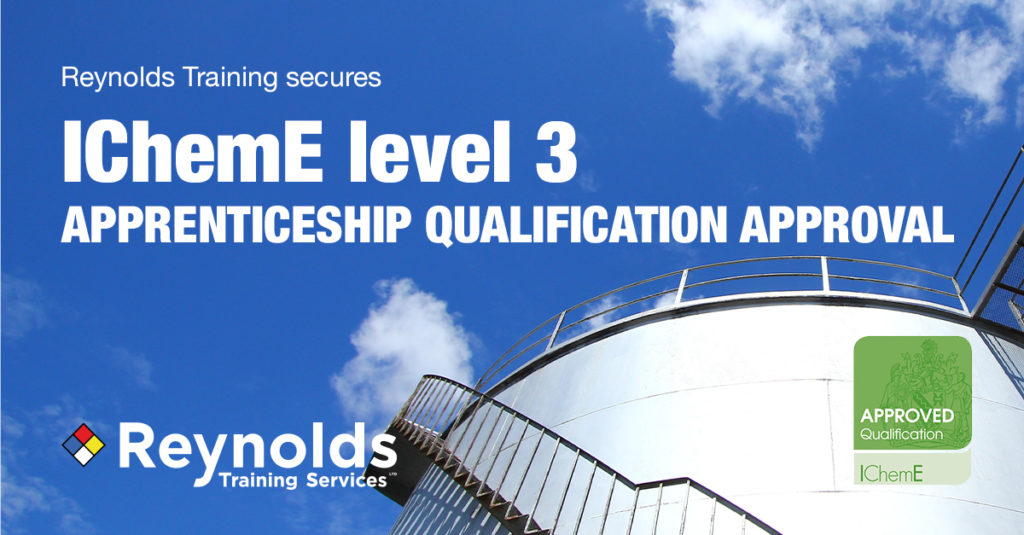 Press release date: 4th August 2020
Reynolds Training Services is proud to announce another first.
Reynolds' innovative Bulk Storage Operator Technician level 3 qualification has gained approval from the Institution of Chemical Engineers (IChemE). It is the first level 3 diploma to be approved by IChemE.
This level 3 qualification forms part of Reynolds Training's sector-leading two-year apprenticeship.
This approval is testament to the hard work that Reynolds Training and their partners have put into creating both this diploma and the apprenticeship of which it is part.
Reynolds' mission was to create a robust recruitment pathway for the Bulk Storage and High Hazard sector with a focus on process and occupational safety, human factors and emergency response.
By training and empowering individuals at the very start of their career, Reynolds is helping to create an environment of competence that will resonate throughout a person's career and, therefore, throughout the industry.
As Reynolds' managing director, John Reynolds, says: "By empowering the individual, you empower industry. It's that simple."
These qualifications empower people to broaden their career horizons, offering the potential of advancement within the industry and, crucially, keeping that expertise within this all-important sector.
The Bulk Storage Operator Technician level 3 Diploma and the associated Bulk Liquid Terminal Technician Apprenticeship offer a mix of classroom-based training and vocational onsite training and competency assessment delivered at the CATCH Technical Training Centre in Stallingborough, North East Lincolnshire, UK.
Having this qualification approved by IChemE provides a new route to technical recognition for the sector, meaning that apprentices can go on to the professional Engineering Technician (EngTech) qualification.
The IChemE assessors commended Reynolds Training Services' course leaders for teaching the process safety fundamentals to an exceptionally high standard. The assessors also recognised the outstanding excellence of the facility at CATCH. This includes a full-scale tank farm that offers a realistic, professional environment in which trainee engineers gain work-based experience in real-world problem-solving and risk assessment for major accident hazards.
"An incredibly proud moment"
Reynolds Training's managing director, John Reynolds, said: "The new qualification creates clear career pathways for individuals. It's about showing them how they can not only advance their own aspirations, but that of our industry.
"As a technical qualification, it signposts a career journey through IChemE's engineering technician process. From managerial, safety engineering, maintenance and beyond, it empowers people to broaden their career horizons, advance their skills and, crucially, keep those all-important skills within the sector.
"At Reynolds Training, we work to a simple logic: by advancing an individual's career prospects you are, in fact, enhancing process safety. In essence, you empower one person, then another, then you are empowering the entire industry.
"Just take The Tank Storage Association's 7 point Safety Leadership Charter which underscores how the promotion of an engaged, positive, informed and cooperative safety culture is key to managing major hazard risks.
"The new qualification was designed with this exact ideal in mind. It's about building a process safety culture through the individual. It's about promoting this through the whole work life of a career – setting a positive cycle of competence in motion across all rungs of a site from the boardroom to the coalface.
"By empowering the individual, you empower industry. It's that simple."
"As a business, it's an incredibly proud moment for us. We took it from a brand new qualification, presented it to IChemE then worked with them through their process.
"To be the first health and safety provider to achieve this award is an honour. It's a massive achievement for any organisation."
"Committed to enhancing the skills pipeline"
Bill Harper, who volunteers as part of IChemE's qualifications activities and led the assessment of the programme, said: "As we look to widen our offering and enable more flexible pathways to professional qualification, we at IChemE are committed to support our colleagues in industry in developing apprenticeship frameworks to enhance the skills pipeline.
"It is hugely encouraging to see the trainees are highly committed to the profession and acting as ambassadors for the programme, inspiring others to consider this as a pathway to professional qualification.
"Congratulations to Reynolds Training Services for being the first, of hopefully many, level 3 qualifications given approval by IChemE in recognition of their high standards that enables a route to technical qualification."
"A testament to Reynolds Training Services"
Peter Davidson, Executive Director of the Tank Storage Association, commented: "The bulk liquid storage sector is and will continue to be an important source of career opportunities.
"With a new wave of innovation and extensive demand for skilled and qualified specialists, we are delighted that this sector-leading apprenticeship programme has received IChemE recognition, a testament to Reynolds Training Services' commitment to the development of the next generation of talent in the UK."
PRESS NOTES TO EDITORS
More about IChemE
The Institution of Chemical Engineers (IChemE) advances chemical engineering's contribution worldwide for the benefit of society. We support the development of chemical engineering professionals and provide connections to a powerful network of around 35,000 members in 100 countries.
We support our members in applying their expertise and experience to make an influential contribution to solving major global challenges, and we are the only organisation to award Chartered Chemical Engineer status and Professional Process Safety Engineer registration.
More information: www.icheme.org
More about Reynolds Training Services
Reynolds Training Services are the leading provider of training, competence assessment and management for the bulk liquid and gas sector, accredited by leading awarding bodies including NEBOSH, IOSH and GQA, delivering to the high hazard industry both nationally and internationally at site or from our world class training facilities located in the heart of Lincolnshire.
More information:  www.reynoldstraining.com
More about The Tank Storage Association
The Tank Storage Association (TSA) represents the interests of over 60 member companies engaged in the storage of bulk liquids and the provision of products and services to the sector. Collectively, its members operate 293 terminals and distribution hubs in the UK and have over 10 million cubic metres of storage capacity in the United Kingdom (UK) and Republic of Ireland (ROI). TSA's members provide and support an essential interface between sea, road, rail and pipeline logistics for many different substances including transport and heating fuels, chemicals, animal feed and foodstuffs.
More information: www.tankstorage.org.uk